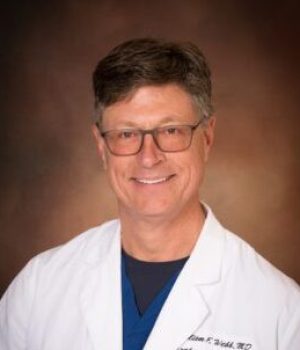 Medical Director of Surgery
Specialty Focus: Orthopedic Surgery
Services
Arthroscopy of the knee
– Anterior cruciate ligament repair
– Meniscal tears
Arthroscopy of the shoulder
– Rotator cuff repair
– Bicep tendon injury repair
– Recurrent dislocation repair
Carpal tunnel release
Non-operative treatments:
– Diagnosis
– Oral anti-inflammatories
– Injection therapies
– Physical therapy
– Bracing
Operative fixation of fractures:
– Upper extremities
Shoulder
Elbow
Wrist
Hand
– Lower extremities
Hip
Knee
Ankle
Pediatric orthopedics
Total joint replacement of:
– Hip
– Knee
Trauma orthopedics
Trigger finger release
This list of services is not exhaustive. A physician may provide additional services as necessitated for patient care and within the scope of care provided by the physician and PSMC.

Medical Education
Doctor of Medicine, Louisiana State University Medical Center, Lousiana
Residency
Orthopedic Surgery, Louisiana State University Medical Center, Louisiana
Board Certifications
Orthopedic Surgery
Practicing Since
1988
Philosophy of Care
My goal as an orthopedic surgeon is to help patients be as functional as possible. I strive to have each person feel that we are a team. My job is to educate the patient about their issue and give them options of treatment. The patient gets to make the decision of which of the options works best for them.